Here at the State Bank of Cross Plains we pride ourselves on vigilance. Take advantage of our card protection programs to stay alert and in control of your money.


Card Manager
Get control and convenience, from an app on your phone, for the cards in your wallet. Card Manager is a central hub for managing your cards and how they are used, viewing your transactions, and staying informed.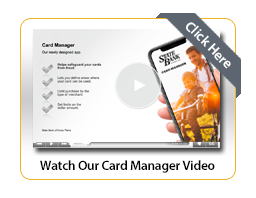 Helps safeguard your cards from fraud
Lets you define areas where your card can be used
Limit purchase by the type of merchant
Set limits on the dollar amount
Instantly change your settings, giving you control over your cards

Get Started - Access Card Manager from our SBCP mobile banking app
Log into your SBCP mobile app 
Under Quick Links, select My Cards.
Select Download Now on "The Cards App" pop up.

This will direct you to the app store to download the new Card Manager app on your device.

Open the app and select "Allow" for Card Manager push notifications.
Select Log In.

Enter your SBCP mobile banking Username and Password.

You are now able to add your SBCP cards to Card Manager.

Select "Alert Preferences" and set up alerts on your card. Previous alerts will not transfer to the new app.
Previous card controls will transfer to My Cards. Select "Control Preferences" to review and make any changes.

Great job! Once you have completed control preferences and alerts setup, delete your CardValet app. This will prevent any duplicate notifications.
Still have questions?  Click here to reference our Frequently Asked Questions.
---
Two-Way Text Alerts
A simple, yet powerful fraud control for your debit card. Our fraud monitoring network watches for suspicious or unusual transactions. If a suspicious transaction appears on your card, you'll receive a text asking if it's legitimate. Simply text back to confirm or deny the transaction. Standard data text and messaging rates apply.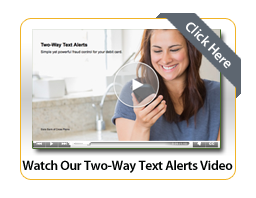 We will never ask for any personal information via text

Text alerts are sent between the hours of 8 am-9 pm CST

You will be automatically enrolled in Two-Way Text Alerts if we have a current mobile number

Text alerts will display State BK Cross Plains Fraud Center